Christian Couplepreneurs Beach Retreat & Mastermind
Perform better together. Space is limited, apply now!
What Is It All About?
---
A luxury, Instagram-worthy, boutique retreat experience combined with a high-level mastermind design
Get ready to be spoiled at this high-end, boutique retreat experience in Allan & Nicole Blain's personal, multi-million dollar beach home. Not only will you enjoy your own private suite just steps away from one of North America's most beautiful, sugary white sand beaches and crystal clear emerald water, but you will also enjoy 5-star meals prepared by our private chef, fun activities, and a business mastermind experience with 8 other high performing 6 and 7 figure annual income earning couples who seek to put God first in all they do, and value their relationship with their Lord and Savior Jesus Christ, as well as their marriage and family, much more than business success.
APPLY NOW
High Performing Couples Face Unique Challenges
---
Without and clear vision and a plan of action it can lead to...
Harmful stress and fatigue

Dropping the ball on key business or family commitments

Busyness taking the zest out of romance

Cares of this world keeping us from growing in faith

Limited energy to invest in your relationship

Boredom of routine, feeling like you're going through the motions

Not feeling like you're on the same team
Thriving Marriages are Foundational to Success
---
Strong, thriving marriages are foundational to not only our happiness but also to the ultimate success of our businesses. Working together brings numerous blessings as well as it's own unique challenges. Don't go it alone. Tap into your own couplepreneur advisory board for the weekend. Let other high-achieving Christian couples hear you, understand you, clarify your business challenges, and share their perspectives, experience, and insights in order to help you level up your business while enjoying working together with increased efficiency, enjoyment, and fulfillment.
Missed Networking Opportunities
Miss out on valuable connections, collaborations, and like-minded fellowship within the entrepreneurial community.
Lack of Knowledge Sharing
Lose out on learning from experienced entrepreneurs, hindering business growth and problem-solving abilities.
Limited Exposure to New Ideas
Miss out on fresh perspectives, innovative strategies, and industry trends that spur growth.
Stagnation and Missed Growth Opportunities
Risk falling behind competitors by not actively seeking growth and staying updated.
Limited Accountability and Support
Miss the chance for support, motivation, and a sense of accountability from like-minded couples.
Potential Missed Collaborations
Forego opportunities to collaborate with others, limiting mutual benefits and shared resources.
Allan & Nicole Blain
Allan and Nicole Blain are college sweethearts who married more than 30 years. Over the past 8 years have built the #1 social marketing business in North America as part of their $250M/year global company.
They enjoy hosting and entertaining others at their lake home in the Nashville, Tennessee area and also enjoy spending time here at their "Vitamin Sea" beach house in Seacrest Beach/Rosemary Beach, Florida.
They have been blessed with 6 children ranging in age from 16 to 29, and live very active lives.
They are passionate about what they do and view their multi-million dollar "life transformation" business as an incredible vehicle to serve others most vital needs - physically, mentally, financially, relationally and spiritually as well.
These beach retreat & masterminds are a natural extension of their gift of hospitality and service to others and their desire to use the resources that God has blessed them with to encourage, build up and equip other couplepreneurs like themselves to make an even greater impact together.
Ray & Jessica Higdon
Ray & Jessica Higdon, bestselling authors of Time, Money, Freedom (Hayhouse Publishing), help leaders reach new levels of hope, wealth, and impact through renewed perspectives.
Ray has helped his students generate over 300,000 new customers in just the past 5 years.
A top keynote speaker, Ray has shared the stage with world renowned thought leaders, including Tony Robbins, Rachel Hollis, Les Brown, Brendon Burchard, Robert Kiyosaki, Bob Proctor, Gary Vaynerchuk, Grant Cardone, Magic Johnson and many more. His podcast, Home Business Profits, has over 10 million downloads. The Higdon Group has been recognized as an Inc 5000 company and hosts live and virtual events with as many as 5,000 people live and nearly 7,000 registered online.
Jessica is luxury real estate investor and realtor in Southwest Florida, and especially enjoys assisting families to find family-friendly luxury living in the Naples area where they live. Together with her husband, Ray, Jessica has co-owned their marketing company for over 12 years. She is a social media and branding expert, has an extensive background in marketing, and is the mother to two young children.
What Makes This Mastermind Special?
---
This Mastermind is unlike any event you've attended. You'll gain...
Time to connect, refresh, and revitalize your marriage.
A dynamic community of like-minded couples.
bility to mastermind with people (who have the results they desire) to figure out the small — but crucial — tweaks that catapult them to an income level most only dream about.
An "environment" of people who provide a constant flow of insights, ideas, and strategies you'd

NEVER

figure out on your own... That could put your team and business on a trajectory you've only seen from the outside.
This Mastermind is for You if You...
---
Are a Married Christian Couple
This entire experience is uniquely designed specifically for Christian married couples where one or both are actively building a network marketing business.
A High Achieving Couple
To maintain the integrity of ideas shared we select high performing couples with success in either their NWM biz or other occupation.
Desire a Luxurious Getaway
Feel free to read the 5 star reviews of some past attendees to see the quality of the accommodations, food and experience.
Desire to Grow Your Business
As Christians, we understand the importance of being good stewards of our gifts, talents, abilities, and opportunities and desire to maximize our impact of our business.
Ready to Learn from Others
We all have blind-spots and we should desire to have them revealed in order to avoid the common pitfalls that hold many network marketers back from their potential.
Desire Supportive Relationships
We don't know what we don't know so valuing the questions, insight, experience and suggestions of tother successful couplepreneurs is a winning mindset.
Reviews From Past Mastermind Attendees
What Should We Expect?
You can expect a luxury retreat experience like no other while connecting with like-minded high performing couples who share your faith and entrepreneurial spirit. This supportive community can foster lasting relationships and the insight gained from the other high achieving couples is invaluable to your success.
APPLY NOW
Your Getaway Location
---
Mastermind Retreat Location
Allan & Nicole Blain's newer luxury residence sits in a prime location along Scenic Highway 30A, on Florida's emerald coast, home to one of North America's most beautiful beaches.
"Vitamin Sea" boasts over 5,000 square feet of professional décor and high-end luxury finishes throughout and is just steps away from the beach. This home is truly a dream destination. It boasts an impressive pool deck and outdoor space for enjoying the coastal lifestyle and even includes an elevator to transport you across all four floors
It is located just one mile west of the Alys Beach, one of Florida's most exquisite high-end areas with stunning architecture and within close proximity to all of the shops, restaurants and lively amenities of The Hub, Alys Beach, Rosemary Beach and 30Avenue. Discover beach life on 30A's popular east end!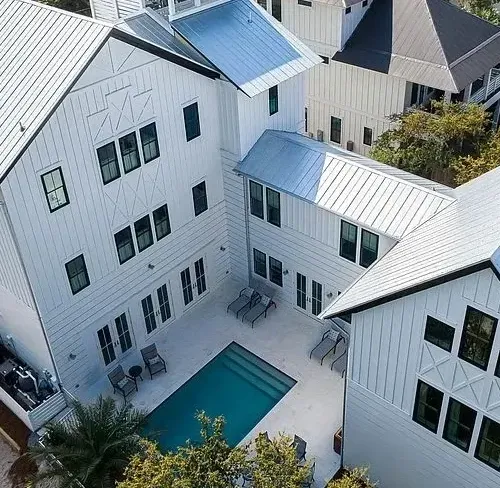 Friday, May 3rd
Welcome Reception
1:00 PM – 5:30 PM
Appetizers & non-alcoholic drinks
Dinner
5:30 PM – 7:30 PM
Icebreaker Games
7:30 PM – 9:00 PM
Saturday, May 4th
Breakfast
8:00 AM – 9:00 AM
Mastermind
10:00 AM – 12:00 PM
Lunch
12:00 PM – 2:00 PM
Mastermind
2:00 PM – 4:00 PM
Dinner
4:30 PM – 6:00 PM
Sunset Photoshoot
6:30pm - 8:00pm
Sunday, May 5th
Breakfast
8:00 AM – 9:00 AM
Worship Service
10:00 AM – 11:00 AM
Lunch
12:00 PM – 1:00 PM
Group Fun
1:00 PM – 4:00 PM
Dinner
6:00 PM – 7:30 PM
Mastermind Wrap Up
7:30 PM - 9:30 PM
Monday, May 6th
Breakfast
8:00 AM – 9:00 AM
Depart by 10:00 AM
Frequently Asked Questions
---
Find answers to our most commonly asked questions below.
What's the agenda of this event?
What is the format of the mastermind sessions?
What value can we expect to gain from attending this event?